How it Works
It's a pretty easy concept. VacationHomesForCharity.org (VH4C) helps charities raise more money by finding amazing vacations that they can use for their fundraising efforts.  A charity, once approved, can view a list of all available properties and then use it at a silent auction, live auction or even an online auction or raffle. VH4C creates all the marketing materials so it's easy for the charity.
If you would like to learn more about using a vacation for your next fundraising event please contact us.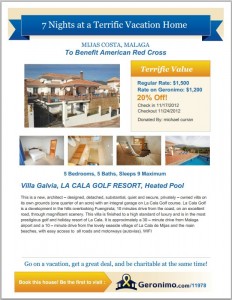 We help vacation providers utilize vacant time, increase revenues and get great marketing exposure as well as leverage their donations with their travel clients.  This is a unique opportunity to build your "brand halo"!  Convert a spare week into a big donation.  Participating vacation providers are free to put the VH4C participant logo on their websites to help differentiate their property from other vacation providers in their area.
Promote your property -If you would like to learn more about donating time at your vacation property and enjoying the benefits of being promoted to supporters of thousands of non-profits year round, contact us or list your properties now at Onespare.com
Use a vacation at your next silent auction! – Go to any Geronimo listing and choose "Print PDF for Event" and you'll immediately have a vacation to feature at your next fundraiser!  Send the flyer to your supporters.  Choose from $MILLIONS in available vacations.