Snowball. The JC's signature black tie event takes place every year in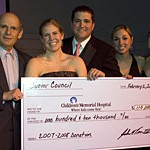 February, where lively young professionals come together for an evening of fun, food, dancing ane more!
The Junior Council's  23rd Annual Snowball:
Saturday, February 5th from 8pm to 1am at The Navy Pier
Grand Ballroom
Join Chicago's most lively young professionals for a night
of live music, open bar, silent auction and delicious food!
MUSIC
Live music will be provided by Sorry for Partying.
FOOD
A variety of Chicago's finest restaurants will be providing
bite-sized portions of food in 2 different shifts (stay tuned
for what time each restaurant will be serving).
Snowball's presenting tasting sponsors so far include:
– Ai Sushi
– Oak Mill Bakery
– Qdoba
– Wildfire
FUN!
– Join us on the red carpet!
– An extensive silent auction showcasing 15 VIP items will  be displayed on TVs around the event.
– A photo booth with complimentary pictures for all guests
– Raffles
– Heads/tails game
TRAVEL
To aid in your departure (cabs will be scarce), complimentary shuttle service will be provided starting at 11:00pm and
ending at 1:30am. More details to come.
AFTER PARTY
Details on after party to come.
Get your tickets now by clicking on the "buy tickets" link!
There are only a certain number of general admission tickets
available at each price, so get yours soon before the price
increases!
STAY
A reduced rate has been arranged for Snowball guests
at the W Hotel for $109 per night ($125 with tax). Click to
the link to the left to book your room.
We hope you join us at Snowball 2011! Check back as
we continue to update!
Visit the JC Snowball website for more details on the event.
Comments (1)